Today our new course "10 Keys to Defense" is launched and we are happy to collaborate with our new author, IM Robert Ris.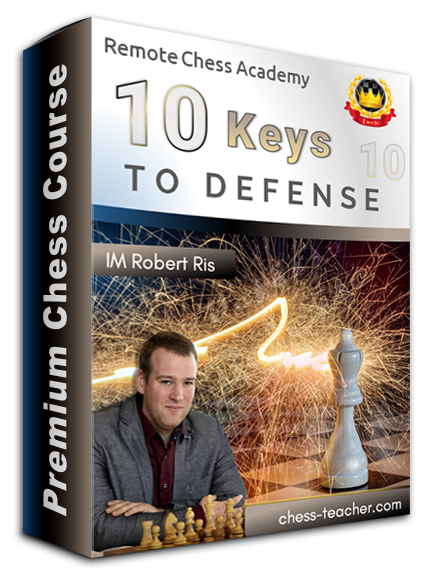 Why this course?
You may love attacking, but defending ―like it or not― it's something you must do! ☺ The important thing is to learn how to defend in a professional manner and not like a patzer. Improvising and making careless moves in a nonchalant way are common practice for amateur players when they are defending. This kind of "defensive" play becomes self-destructive.
Being the defense a neglected subject by common chess trainers, we have created this course to fill that gap. We are providing you with ten weapons to professionally defend yourself in a practical game!
About the author
Robert Ris was born in Amstelveen, The Netherlands (1988). For many years he belonged to the top players of his country in his age category and managed to qualify for various international competitions. He became an International Master (IM) at the age of 18. He is an experience coach, a certified Schaaktrainer 3 (2012) and FIDE-Trainer (2019). Among his students are national youth champions and other talents who have participated in European and/or World Youth Championships.
Special Offers
We wanted to celebrate with you the successful launch of this course. You can get the course with a flat 50% discount and save about $45 USD by using the coupon "def50". If you don't know how to use a coupon, please see here. This is a limited-period offer and will be valid only till Wednesday, 20 January.
You can also add to your defensive keys, the 7 most important skills to play ANY game, while also saving $89 USD – get "10 Keys to Defense" + "7 Keys to Victory" for just $109 USD!
As a bonus for you, we have published the fourth chapter from the course, "King Walk". In this chapter, IM Robert Ris discusses an important topic when you are on the defensive side. Almost every chess player knows the importance of castling the king in the opening stage in order to safeguard the king.
But what should you do when your opponent attacks your castled king and you couldn't find a proper defense? One of the defending techniques is to simply run away, trying to escape your king from the unstoppable attack. In other words, taking your king for a walk – the king walk technique. That is exactly what you will learn from this lesson.